Tonight, I thought I'd date myself as an old woman and do a little old-school Casey Kasem, American Top 4o style post. For those of you who don't know who or what long distance dedications with Casey Kasem are – you make me feel ancient, but I love you anyway. Of course as a dear friend of mine pointed out today, when I was younger – there were no remote controls, internet, email or cell phones. We used to tape songs off the radio as the DJ talked over the beginning of the song and we answered the phone at our own risk, without caller ID. So yes – I grew up right around the Stone Age. (just ask my kids)
Anyhoo, regardless of age, I hope you enjoy this little bit of fun in honor of Trust in Advertising!
**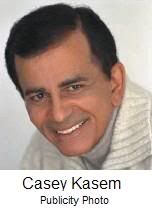 Good evening everyone, this is Casey Kasem and this is the Top 40 countdown. Once again, it's time to reach into the mail bag and take a few listener dedications. This one comes from a young lady named Lexi, who is at a crossroads in her life and getting ready to take her first big step in a new direction. Here's her letter…
Dear Casey,
My name is Lexi White, and I'm a long time listener, but this is my first time making a request. The reason I'm writing is because I've been missing a very special person in my life, my dad.  Henry died three months ago, and I miss him very much. He was diagnosed with Alzheimer's in my second year of college. When I got the news, I immediately dropped out of NYU and came home to care for him. It's a decision I will never regret. We spent the last few years of his life together, just he and I. I was blessed with the time to tell him how much I loved him and he reminded me every day of what a gift he thought I was.
I will treasure those memories always.
With him gone, I need a change of scenery, so I find myself moving from our little town to the bright lights of San Francisco to embark on what I hope will be… the adventure of a lifetime.
As I pack up the last few things in the house and say a final goodbye to my dad, will you please play "I'll Remember " by Madonna and dedicate it to my father who I will always carry in my heart, no matter where I travel.
Lexi
Lexi, here is your long distance dedication:

**
This next letter comes to us from a young man who was so excited to write in, he apparently forgot to sign his name. I assume he goes by the initials VD and it sounds like he has a whole set of struggles of his own.
Mr. Kasem,
Why must I be surrounded by idiots? I know that sounds harsh and I guess it is, but a lot of things in my life aren't going the way I planned. From the outside looking in, my life would look picture perfect, but from the inside… things aren't always what they appear. I'm really a simple man, I work hard and I expect those around me to work as hard- is that really too much to ask? Assistants are supposed to lessen you workload not increase it with their incompetence, right?  But I digress…
I was wondering if you would play (I Can't Get No) Satisfaction for me, so I can turn it up as loud as possible in my office and send the latest, useless, waste of space who calls herself my assistant to scurry away in hiding. (probably near the vending machines since she is endlessly consuming sticky snack cakes until the machine runs empty instead of doing her work) That would definitely make me smile.
Sincerely yours,
VD
VD, here is your most bizzare, and not really long distance dedication:
**
These next two letters, I'm not sure I should even share… this first one I might need to pass onto the authorities. The other is just plain rude.  Due to the late hour, I'll save those until tomorrow. Tune in then for a few more long distance dedications.
Remember to keep your feet on the ground and keep reaching for the stars… this is Casey Kasem saying- Goodnight.